CINEPHILIA BOUND CANNES 2019
MIDDLE EASTERN & AFRICAN AUTHORS/FILMMAKERS – INTERNATIONAL PRODUCERS MEETINGS AT CANNES FILM FESTIVAL
CYRIL ARIS . Lebanon
Project: It's a Sad and Beautiful World
Narrative
Synopsis:
Set against the backdrop of Lebanon's defining moments over the past 40 years, It's a Sad and Beautiful World explores the love story and improbable romance between Nino, a warmhearted idealist, and Soraya, a wounded cynic, throughout their childhood, adulthood and married life.

Director Biography:
Cyril Aris is a Lebanese Director & Screenwriter, based in New York and Beirut. His debut feature documentary, The Swing (2018) premiered at the Karlovy Vary IFF, receiving positive reviews with The Hollywood Reporter calling it 'Intimate and moving', in 'this meditation on truth, love and lies in the face of illness and death'. It won the El-Gouna bronze star award, the jury award at Rome's Medfilm Festival, an honorable mention at London's Open City Docs, and a special mention at the Budapest International Documentary Festival.
His last fiction short film, The President's Visit (2017), premiered at the Toronto International Film Festival (TIFF), won the US National Board of Review (NBR) grant award, was shortlisted for a student BAFTA, won the Muhr jury prize in Dubai, the oscar-qualifying grand jury prize at Nashville, and played in over 60 film festivals worldwide. Previous credits include short film Siham (2013), jury award at the Palm Springs ShortFest, LBC's TV series Beirut, I Love You (2011-12), and Yahoo's web-series Fasateen (2012), which both gathered several million views. Aris holds an MFA from Columbia University in the City of New York, and has taught Film at Columbia University, NHSI at Northwestern University and Barnard College, and is currently in development for his first fiction feature, 'It's a Sad and Beautiful World'.

Project Status:
Beirut Cinema Platform ART award. Fondation Liban Cinéma "Coup de Pouce" award.

Project Objective:
Producers (Arab countries), co-productions (Europe, US), writing residencies/script labs.
SELCEN ERGUN . Turkey
Project: Snow And The Bear
Narrative
Synopsis:
Aslı has recently appointed as a nurse to a small distant town, where the winter surprisingly doesn't come to an end. A man goes missing the night that Aslı has an argument with him and she finds herself in the middle of intertwined power relationships, secrets and doubt.
Director Biography:
Selcen Ergun is a film director, screenwriter and photographer from Istanbul, Turkey. After studying Industrial Design and Visual Culture at Middle East Technical University, she obtained her MA in Screenwriting and Directing at Istanbul Bilgi University. She is a Berlinale Talents 2018 alumna. She began her career as an assistant director, worked in many national and international productions including two feature films of well known Turkish director Reha Erdem: 'My Only Sunshine' and 'Kosmos'. She directed short films, commercials and music videos. Her short films 'Confrontation' and 'A Sunny Day' have been selected by several important international film festivals (including Munich, LUCAS Frankfurt, Brussels, Los Angeles, !f İstanbul, Ankara, Adana Golden Boll) and awarded prizes. 'A Sunny Day' received two script awards, a monetary support from the Turkish Ministry of Culture and its rights were bought by ShortsTv to be distributed to 36 different countries.
Selcen continues to work as a music and commercial video director, and is currently developing her debut feature film 'Snow and the Bear', which received production funding from the Turkish Ministry of Culture and development grant from the German Turkish Co-Production Development Fund. The film project won Meetings on the Bridge Development Grant for the best project from Istanbul International Film Festival. It has been selected, amongst others, for Berlinale Talents Script Station 2018 and First Films First, Goethe-Institut Young Directors ́ Academy South-Eastern Europe.

Project Status:
Launched at Meetings on the Bridge Platform of Istanbul International Film Festival in 2017 where it received both Best Project Award with development support and Transylvania Pitch Stop award.
Developed at Berlinale Talents Script Station and First Films First, Goethe-Institut Young Directors ́ Academy South-Eastern Europe.
Selected by Holland Film Meeting, Fest Forward Pitching Forum Women in Film, Meetings on the Bridge.
Supported with Script Development and Production grants by the Turkish Ministry of Culture.
Producer from Turkey, Nefes Polat of Nefes Films, is attached with her international co-production experience. Recently, she co-produced 'SİBEL', directed by Çağla Zencirci & Guillaume Giovannetti
 (2018, Turkey, France, Luxemburg, Germany
 co-production) which made its world premiere at Locarno International Film Festival, receiving FIPRESCI and two more awards.
Teamed up with RIVA Film from Germany in August 2018 for the further steps of the project and received development grant from the German-Turkish Co-Production Development Fund.
Project Objective:
Looking for co-producers from Europe, international distributors, sales agents and further financing. Since our cinematographer is French, and he is on board from the very early stage, we are interested in possibilities of co-production with France. We are also looking for supra-national fund directors and administrators to present our project as well as broadcasters.
DANIELLA SABA . Lebanon/Brazil
Project: L'Enfant Du Village
Narrative
Synopsis:
Florence, on her early forties, is in a relationship with Serge but is still attached to Antoine, her ex-husband who has a serious illness and who was illegally adopted in Brazil. She finds herself embarked by the latter in an unlikely trip to the Brazilian Sertão, in search of his biological family, hoping to save him.
Director Biography:
Daniella is a Lebanese/Brazilian filmmaker. She received her Masters in Film Directing from Paris 8 University where she realized her student film "Le Cinéaste La Petite Fille et l'Homme Sandwich" that was selected at over 15 international film festivals. Her film "Ce Qu'il Reste" was co-produced in 2014 in Brazil and France through the Brazilian ministry of culture and with the funding of CNC l'aide de la région Alsace, de la Cus, de l'Adami et de la Procirep. The film received the jury prize at festival Un Point C'est Court and Jury Special Mention Awards at Rencontres Cinématographiques de Digne Les Bains et au FIC - Festival Internacional del Cortometraje, in Buenos Aires. The film was acquired by Canal Brasil.
In 2017, she co-wrote the short film Hors Saison with Stella Di Tocco. The film received the support of Pays de la Loire et du CNC (Aide au programme), de France télévisions, de l'ADAMI, de la Procirep et de l'Angoa.
She is currently developing her first feature film L'Enfant du Village. The project received the first prize at FFFMed 2018 (Films Femmes Francophones | Méditerranée), and the prize of Fondation Liban Cinema at the 3rd Coproduction Forum LatinArab.
Project Status:
Selected in FFFMed writing residency 2018 (Films Femmes Francophones | Méditerranée) and received the first prize.
Selected at 3rd Coproduction Forum LatinArab at Carthage Film Festival2018 where it received the Fondation Liban Cinema Prize.
It has also participated in the writing workshop of the Fondation Liban Cinema in January and March 2019, at the Torino FilmLab Extended-Audience Design and at the Beirut Cinema Platform 2019
Project Objective:
We are hoping to find a French main producer, a Brazilian co-producer, and other eventual partners for this project.
HOUSSEM SANSA . Tunisia
Project: Lafayette
Narrative

Synopsis:
Having auditioned for an role in an American movie, Hana, a theater actress, awaits the favorable response that can radically change her life.
Director Biography:
Houssem Sansa has studied cinema in Tunis. His first film has been his graduation project, 'weaning'. He chained after with a second, 'Castaway', a short documentary made during a training course in the Fémis in Paris. After school, he has spent a few years as assistant director. He directed, successively, in 2015 and 2016, 'Waiting for tomorrow' and 'Tribute', two short fiction films. With the producer of his film 'Tribute', he is currently working on his first feature film, a fiction that bears the name of 'Lafayette'.
Project Status
The project has been selected by Al Jazeera Documentary, which will support it through a presale for TV rights in their territories. The project will be presented to several commissions for financial contributions, such as the Ministry of cultural affairs in Tunisia this summer.
Project Objective:
Meeting coproducers, distributors and sales agents.
LINA SOUALEM . Algeria/France
Project: Their Algeria
Documentary

Synopsis:
After 62 years of living together, Aïcha and Mabrouk, my grandparents, recently separated. The film explores the longstanding journey of exile of this couple of Algerian immigrants living in a medieval french town since over sixty years, whose lives were a succession of separations.
Director Biography:
Lina Soualem, 28, is a French-Palestinian-Algerian filmmaker and actress, based in Paris. After studying History and Political Science at La Sorbonne University in Paris, she started working in journalism and as a programmer in film festivals, looking to combine her interests for cinema and the study of Arab contemporary societies. After working as a programmer at the International Human Rights Film Festival and the Latin Arab festival, in Buenos Aires, Argentina, she moved back to Paris where she is now based. She acted in two feature films and currently works on film and documentary projects as an author and assistant director. "Their Algeria" is her first feature documentary project.

Project Status:
The film is produced by Marie Balducchi, from the French production company AGAT films & Cie.
The project benefitted from two writing residencies: The 6th panafrican documentary residency of the FIDADOC in Casablanca (October 2017)
Writing residency at Les Ateliers Sauvages in Algiers, in partnership with Bejaia Film Lab & Association Project'heurts (February 2018)
The project received several grants: SCAM – Brouillon d'un rêve writing grant (2017), TV5 Monde writing grant at the Cinema encounters of Bejaïa - Algeria (2017), CNCI grant at the TAKMIL workshop during the Cartage Film Festival (2018), International Media Support (IMS) grant during the Cairo International Rough Cut workshop for Arab Women Filmmakers, Cinema grant by the French Institute of Algiers.
Project Objective:
Looking for financing, co productions with Northern Europe (Denmark, Norway, Sweden), distribution (France & international)
AREEB ZUAITER . Jordan/Palestine
Project: Yalla Parkour
Documentary

Synopsis:
Yalla Parkour is a story of hope in the most unlikely of places. Sparked purely by the personal efforts of its members, Parkour introduces another face to life in Khan Younis. As part of the team, Mohammed and Ahmad practice day-to-day in every corner of the camp and its accommodating city. While taking Ahmed closer to his dreams, Parkour in Gaza has moved Mohammed away from them.
Director Biography:
Areeb Zuaiter is a visual storyteller who is passionate about filmmaking, storytelling and supporting rising filmmakers. Her creative work focuses on art, culture, identity and social issues with a particular attention to the Middle East and North Africa. As a director, Zuaiter's shorts were nominated in festivals around the world such as Annecy International Animated Film Festival in France and Aichi Friendship Film Festival in Japan. Her thesis documentary was nominated for Sony's Outstanding Thesis Award through AU's Visions Awards. Her 16mm short, "Stained", won the Jury Prize at the European Film Festival in Lebanon. Her latest documentary, "Colors of Resistance", is currently fulfilling its national and international film festival run. Zuaiter led the Regional Training Department at the Royal Film Commission – Jordan. Her work with the Associated Press exposed her to the latest technologies in production and broadcasting. She spent a year at the National Museum of American History as a Film and Video Fellow where she produced some of the Museum's key film projects. Since 2016, Areeb had been on the evaluation committee of some of the most competitive programs that cater for the Middle East and North Africa. Those programs include Rawi Screenwriters Lab - the Arab version of Sundance Screenwriters Lab, the Film Prize of the Robert Bosch and Med Film Factory. Zuaiter currently teaches Visual Literacy at American University.
Project Status:
More than 50% of the film has been filmed with the help of local professional crew in Gaza. A 40-minute rough-cut has been put together accordingly. Additional filming in Gaza and Sweden is planned based on the development on the characters. The film is applying for finishing funds and post production grants in the U.S., Europe and the Arab World. D.C. based producer, Brigid Maher, has come on board earlier this year.
Project Objective:
Looking for Swedish, French, Norwegian and/or German co-producers. Filming in Sweden is mainly needed so as to cover the progress of Ahmed; one of the film's main subjects who is attracting attention in his domain in Sweden.
Looking for documentary finishing funds, post production funds.
"CINEPHILIA BOUND CANNES AWARD" JURY MEMBERS
EMILIE BUJÈS is the Artistic director of Visions du Réel, International Film Festival Nyon. She is a Program advisor at Cannes Directors' Fortnight and an expert for the Swiss fund visions sud est. She has previously been the Deputy artistic director of La Roche-sur-Yon International Film Festival and a member of the 'Image/mouvement' commission of the CNAP (French National Centre for Visual Arts). Before this, she was a curator at the Geneva Contemporary Art Center and has contributed to the program of film festivals and art institutions such as the Forum Expanded–Berlinale, the Contemporary Art Centre (CAC) Vilnius, the Lausanne Underground Film and Music Festival, the Transmediale­ (Berlin), and Forde–Geneva. She has also been teaching at Geneva School of Art and Design and Bern University of the Arts.
Named one of Variety's 10 Producers to Watch in 2018, DINA EMAM is an American-Egyptian filmmaker, educator and script consultant based in Cairo and New York. Prior to becoming a producer, Emam worked in television market research and production management at MTV Networks in New York City. Her first feature, Yomeddine, had its world premiere at the 2018 Cannes Film Festival in the Main Competition, and is currently in distribution. In addition to producing, she educates aspiring young filmmakers in the Middle East the art and craft of creative and logistical producing. Emam holds a BS degree from New York University's Stern School of Business in Marketing and International Business, with a concentration in Entertainment Media and an MFA in Creative Producing from Columbia University's School of the Arts.
LAURINE PELASSY is a French producer based in Paris. Her most recent film by award-winning Palestinian director, Elia Suleiman's IT MUST BE HEAVEN with Rectangle Productions is in Official Competition in Cannes 2019. She founded LES FILMS DE LA CAPITAINE in 2012 after being a right hand's producer on 20 features as WAR IS DECLARED by Valérie Donzelli, NOCTURAMA by Bertrand Bonello and CLIMAX by Gaspar Noé. EAVE member since 2015 and EWA Emerging Woman Producer in 2019, she produces features, documentaries and shorts. All of them were awarded, screened on TV and travelled all over the world such as Grégoire Graesslin's short HELIX ASPERSA presented in International Competition in Locarno 2014. More recently CROSS by Idir Serghine won the Special Distribution Mention in Brive 2018 and Best Actor/Actress/Photography at La Cabina Film Festival.

Beirut-based producer SABINE SIDAWI founded in 2007, Orjouane Productions, one of the most renowned production companies in Lebanon today. Sabine has produced, co-produced and line produced more than 25 Feature films, fiction and documentaries which have been screened and awarded at international festivals and sold around the world, among them, "3000 Nights" by Mai Masri, "Peur de Rien" by Danielle Arbid, "Une Histoire de Fou" by Robert Guediguian, "A Maid For Each" by Maher Abi Samra, ʻ'May In the Summer'' by Cherien Dabis, "74 the Reconstitution of a Struggle" by Rania & Raed Rafei, "We were Communists" by Maher Abi Samra, "Carlos" by Olivier Assayas... Sabine Sidawi is now developing two feature films "Suzanne & Osmane" by Danielle Arbid and "Apollo" by Tarazan & Arab. She has finalized the feature film "Beirut Hold'em" by Michel Kammoun and the medium length documentary "Nasmet Tango" by Maya Tabet Noun. Sabine Sidawi has been teaching film production in two major Lebanese universities since 2009 and has participated in several international conferences as an expert in Middle-East Film Production.
Since 2013, ALESSANDRA SPECIALE is consultant for Africa and Arab Countries at Venice International Film Festival and head of the project of Final cut in Venice, a workshop to support African and Arab films in post production. Since 1991 she is artistic director of the African, Asian and Latin America Film Festival of Milan, Italy. With the Association COE she has distributed in the Italian alternative theatrical circuits more than 200 films from the three continents. She has collaborated as programmer for other international film festivals as Locarno, San Sebastian, Kerala and Torino Film Festival. She is also creative documentary filmmakers, her films have been broadcast by television channels such as Tele+, Rai and Arte. Since 2016 she is President of Milano Film Network, an association that unites seven festival in Milan and promotes film distribution film industry events and workshops in Italy.
CINEPHILIA BOUND CANNES 2019 AWARD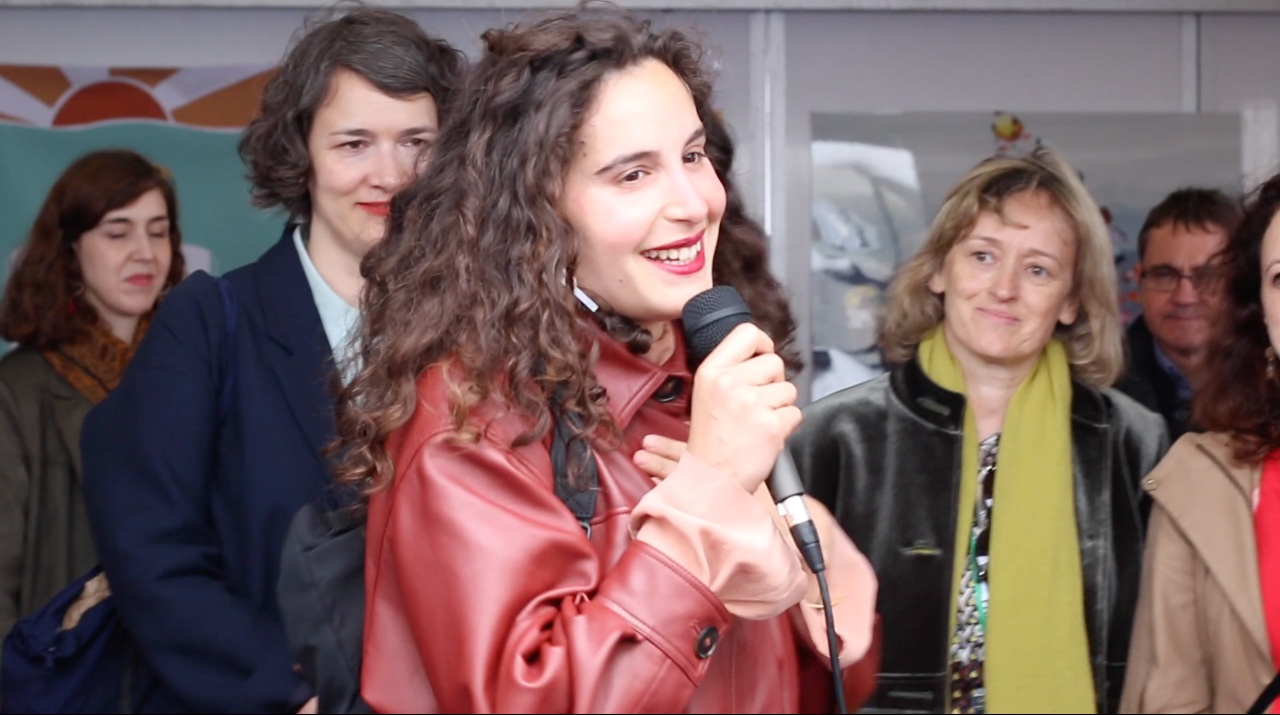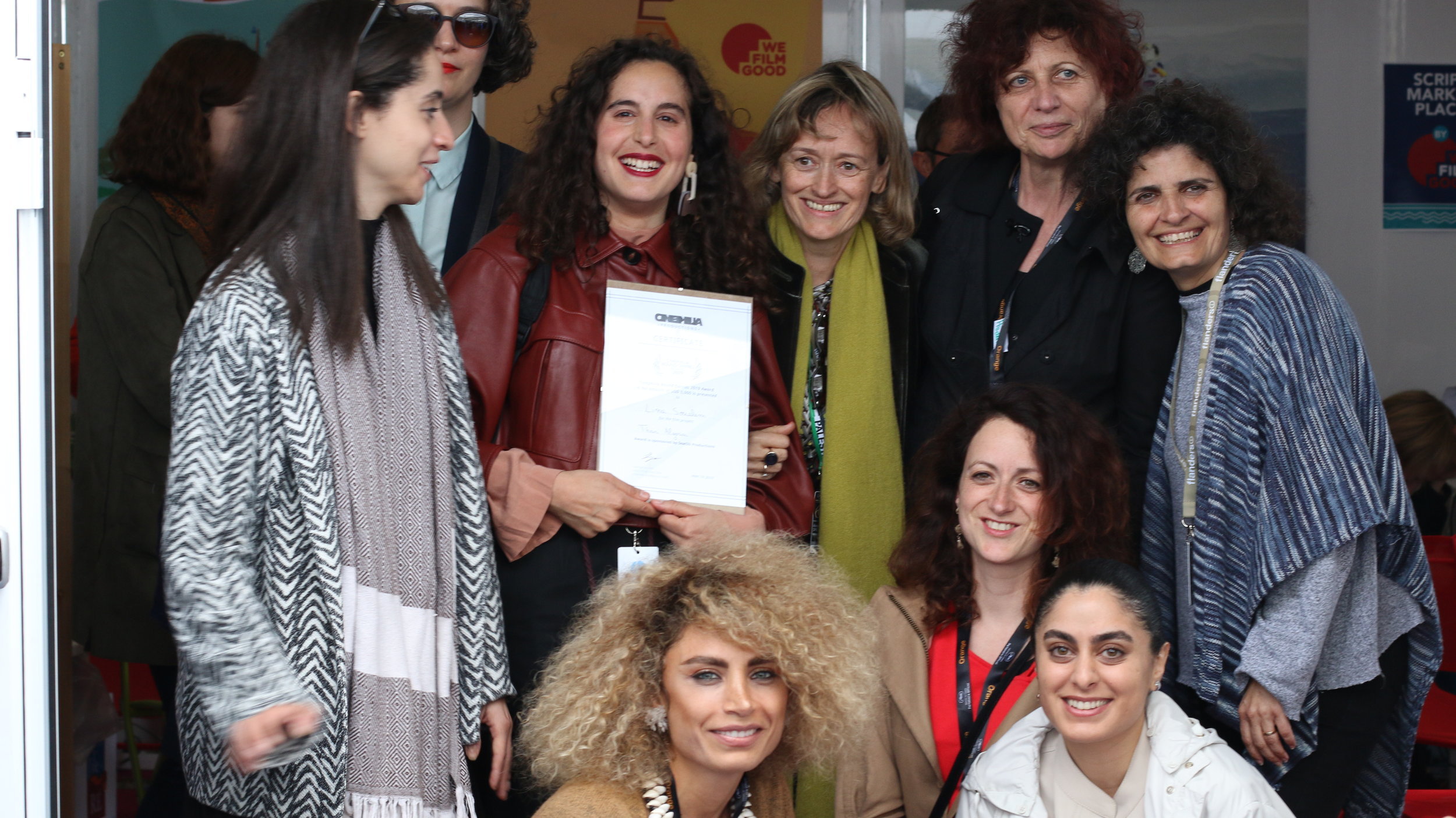 For the 3rd edition of Cinephilia Bound Cannes program, Cinephilia is pleased to announce the recipient of Cinephilia Bound Cannes 2019 Award, Lina Soualem for her project "Their Algeria". The award of $5,000 was announced on May 19th during the 72nd Cannes Film Festival.
CINEPHILIA BOUND CANNES 2019 PROGRAM SCHEDULE
MAY 17 // 9:00AM-1:00PM
One on One Industry Meetings at Maison Des Scénaristes (Pantiero 214)

MAY 17 // 4:00PM-6:00PM
Meet The Filmmakers: Roundtable discussion at Jordan Pavilion (Riviera 107) RSVP HERE
In the presence of HRH Princess Rym Ali - currently Managing Director of the Royal Film Commission – Jordan (RFC)

MAY 18 // 9:00AM-1:00PM
One on One Industry Meetings (Request a meeting with the filmmakers. Fill form below.)

MAY 18 // 3:00PM-5:00PM
Meet Cinephilia: Information Session at Morocco Pavilion (Riviera 106) RSVP HERE

MAY 19 // 9:00AM-12:00PM
One on One Industry Meetings at Maison Des Scénaristes (Pantiero 214)

MAY 19 // 12:00PM-2:00PM
Jury/Industry Projects Presentation at Morocco Pavilion (Riviera 106) (RSVP required. Fill form below.)

MAY 19 // 6:00PM-7:00PM
Award Announcement and Happy hour Reception at Maison Des Scénaristes (Pantiero 214)
INDUSTRY/JURY PITCHING AND PROJECT PRESENTATION SESSION IS ON MAY 19 FROM 12PM-230PM AT MOROCCO PAVILION (RIVIERA). RSVP BELOW TO ATTEND.
Each selected filmmaker will pitch their project during a 10-minute presentation to industry professionals (producers, funders, agents…etc) in the jury that will award the Cinephilia Bound Cannes Award of 5,000 USD presented by SEAT26 PRODUCTIONS.
AWARD SPONSOR: SEAT26 PRODUCTIONS

"Founded in 2015, Seat26 Productions aims at supporting filmmakers bring their ideas to life on screen. We finance films and create co-production opportunities, while contributing to projects that help construct relevant narratives, that move audiences and trigger conversations beyond borders. Highlighting the power of storytelling being our mandate, we also promote film literacy within communities by designing international workshops and industry-related events, with a focus on script writing and film development."
TO REQUEST A MEETING WITH THE SELECTED FILMMAKERS PLEASE FILL THIS FORM:
RSVP TO ATTEND JURY/INDUSTRY PROJECT PRESENTATION